Paul Bunyan Trail Geocaching
Minnesota's Paul Bunyan GeoTour
Looking for a little adventure as you explore the Paul Bunyan Trail? Try geocaching! Geocaching, the outdoor high-tech treasure hunting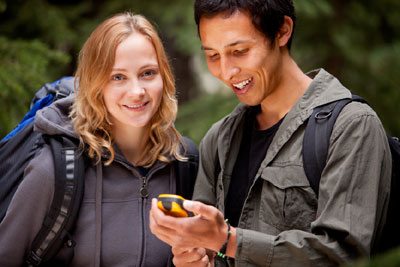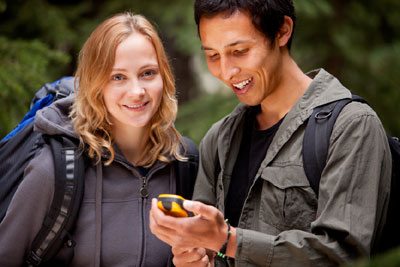 sport, is now available Paul-Bunyan-size along the Paul Bunyan Trail, which extends from Brainerd, MN to Bemidji, MN.
With over 1,000 caches hidden along the 112-mile Paul Bunyan Trail, this GeoTour is recognized among sport enthusiasts as a power trail adventure due to the close proximity of cache hides along every trail mile. It also happens to be recognized as the longest paved Rail-to-Trail power trail in the United States.
As you set out along the trail, cachers, be ready for a great outdoor adventure. The Paul Bunyan Trail offers a relatively flat terrain along its entirely paved 112-miles, which lends to some great travel options as you navigate your way along it. Hiking, running, biking and rollerblading are among the most popular forms of travel. The trail winds through forested lands and around peaceful lakes offering great wildlife and nature sighting opportunities.
Cachers should be prepared to search high and low during their Paul Bunyan GeoTour. Geocaches are hidden in various locations along this power trail--rumor has it tree climbing is even an option for the daring geocacher!
For those who enjoy a little fun in the snow, many of the geocaches on the Paul Bunyan GeoTour are also winter-friendly. If you plan on caching during the winter, plan to snowmobile as you travel along the trail. (The trail's primary winter use is for snowmobiling; and it would be dangerous to walk or attempt skiing during the winter.) Remember to pull your snowmobile off the trail when stopping and stay alert for other snowmobilers when crossing the trail.
Don't let this Paul-Bunyan sized geocaching adventure overwhelm you. You can search for one cache or try to find as many hides as you'd like. Plus, with Trail Towns located approximately every 10 miles along the trail, there are great opportunities to take a nice break or split your caching expedition into segments.
Learn More at Geocaching.com - "The Official Global GPS Cache Hunt Site". Please note: Geocaching.com lists only 100 of the approximately 1,000 caches hidden along Minnesota's Paul Bunyan GeoTour