Snowmobiling on the Paul Bunyan Trail
The Paul Bunyan Trail snowmobile trails are a one of a kind with endless miles of groomed trails that are just right for any rider. The Paul Bunyan Snowmobile Trail has everything a snowmobiler could want in a snowmobile vacation. From beginner to advanced, the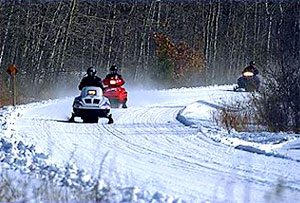 Paul Bunyan Snowmobile Trail has something to offer for everyone. Weave your way from Brainerd on the south end to Bemidji on the north. Passing through many communities along the way, you'll always find the perfect place to stop for lunch or dinner and fill your gas tank.
If you're planning a Minnesota winter snowmobiling vacation in the Brainerd Lakes Area, the Paul Bunyan Trail has beautiful and affordable lodging possibilities en route with over 14 Trail Towns located on the Paul Bunyan Trail. Trail Lodging is versatile and can provide you with the perfect Minnesota vacation. Due to the amount of lodging possibilities available you won't find it hard to accommodate what you are looking for; from family vacations, family reunions, girls or guys weekend getaways, as well as a romantic weekend for two! After a long and exhilarating day on a MN snowmobile trail there's nothing like curling up in front of a warm fire and relaxing. Looking for Maps to plan ahead and know "where you are going"? Have a look at our Trail Maps providing you with 100 miles of map coverage. You may also want to have a look at Trail Mileage which gives you the distance from one city located on the Paul Bunyan Trail to the next. Both links will provide you with comprehensive information so you can plan your Minnesota Snowmobiling Vacation with confidence. In addition to the miles available on the Paul Bunyan Trail, the Brainerd lakes Area boasts one of the upper Midwest's premier snowmobiling destinations with 1,200 miles of networked trails radiating in every direction. You truly can't go wrong planning your snowmobile vacation in the Brainerd Lakes Area!
---
As the snow begins to fall, Trail Conditions will be posted weekly.  Be sure to bookmark that page!
---
The following lakes area snowmobile clubs are responsible for the grooming of our area trails. Feel free to contact them for more information about your Minnesota Vacation, and be sure to thank them for all they do for the community and its visitors!
Baxter Snowmobile Club 5574 Lovelake Rd. NW, Brainerd, MN 56401 -- 218-829-4114
Bay Lake Sno-Packers Deerwood, MN 56444 -- 218-678-4058
Brainerd Snodeos 701 Charles Street,  Brainerd, MN 56401 -- 218-829-8922
Emily/Outing Snowbirds Snowmobile Club PO Box 225, Emily, MN  56447-0225 -- 218-763-1428
Fort Ripley Trail Busters Fort Ripley, MN 56449 -- 218-829-4058
Gull Lake Drifters Box 188,  Nisswa, MN 56468 -- 218-839-1579
Garrison Commercial Club Garrison, MN 56450
Ideal Sno-Pros Crosslake, MN 56442 -- 218-543-6563
Merrifield Marathons PO Box 3, Merrifield, MN 56465 -- 218-765-3783
Pequot Lakes Brush Pilots Box 11, Pequot Lakes, MN 56472 -- 218-543-6194
Ponto Knight Riders Backus, MN 56435 -- 218-587-2498
Sno-Serpents Snowmobile Club Highway 6, Deerwood, MN 56444 -- 218-543-3940